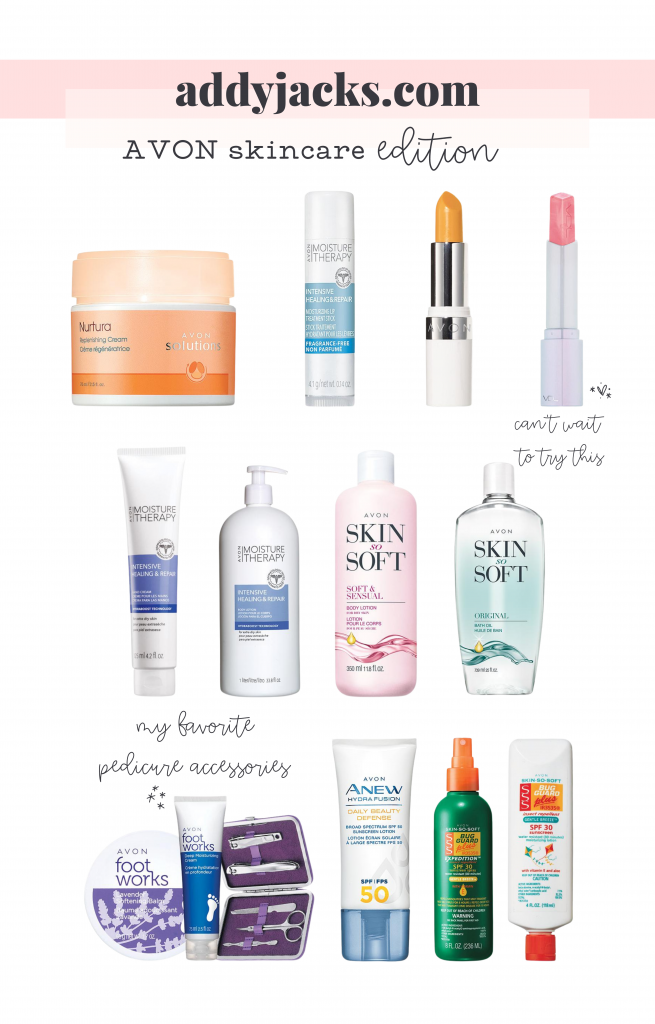 Avon Solutions Jumbo Size Nurtura Replenishing Cream (skincare must!) | Moisture Therapy Intensive Treatment Moisturizing Lip Treatment | Anew Vitamin C Antioxidant Lip Treatment | VDL Expert Color Lip Cube Marble Glow (I can not wait to try this!) | Moisture Therapy Intensive Healing & Repair Hand Cream | Moisture Therapy Bonus-Size Intensive Healing & Repair Body Lotion without pump | Skin So Soft Soft & Sensual Body Lotion | Skin So Soft Bonus-Size Original Bath Oil | Foot Works Deep Moisture Spa Set (my favorite pedicure accessories!) | Anew Hydra Fusion Daily Beauty Defense SPF 50 | Skin So Soft Bug Guard Plus IR3535® Gentle Breeze® SPF 30 Lotion | Skin So Soft Bug Guard Plus IR3535® Expedition™ SPF 30 Family Size Pump Spray
Today I am rounding up my must have skincare products from Avon. Avon has been a part of my family for two dozen years. My mom was a sales associate while she raised us kiddos and I have the best memories from those times. When she sold, she would pick up orders from a local distributer and I remember him well. His home was like a mini warehouse with floor to ceiling Avon boxes, samples and paper lol. Needless to say, extra samples were received when I was in tow.
Growing up to today I have oily, dry, blemish easy skin and I struggle. Finding the right skincare regime took some time and when I found it, I never let it go.
must-have list
My 1,000,000% must have face moisturizer is Avon Solutions Nurtura Replenishing Cream. I use this day and night after washing my face. It does not cause breakouts, redness, dry skin or cause me to feel oily. I will say I've gotten some feedback regarding an "oily" feel of the face after application. I have shared this cream with both family and friends that have loved it and use it daily.
Avon has great lip care to keep your pout soft and moisturized. I love the Vitamin C lip treatment in the tube, it glides on smooth and has a light "scent" that tastes good, IMO. I cannot wait to try the Color Lip Cube Marble Glow in Blooming Pink!
Body and hand cream say no more. Living with mild eczema has been No Prob Bob with Healing & Repair Hand Cream. This tube does exactly what it says, and I have one in every room of my home and car. The body lotions last all day, are not oily and I like the way my skin feels after application. They do not feel heavy or oily just soft and supportive. I use the pink bottle for road and plane trips, my little travel buddy.
Add the body oil to a little spray bottle and use after washing. I spray this oil onto my elbows, knees and ankles and can also be used all over except for the face.
Let's talk feet! They need pampering too and if you have 10 minutes in a day toenail and feet care are a must. Avon sadly doesn't carry a foot scrub I love but any will do. This set includes my favorite pedicure accessories.
Create a mini home foot spa experience
Grab a bath towel, body scrub, foot moisturizer, pedicure kit and sit at the edge of your bathtub with your feet inside. Clip and file toenails then push back and clip cuticles. Scrub feet dry, do not get them wet, for 3-5 minutes. Rinse with warm water, turn and dry feet following with the foot moisturizer. Smooth as a baby's bottom.
Sun protection! Do I sound like everyone ever 😁 I like these SPF products for everyday use and bonus, Avon offers SPF and bug repellent in one!
Have you heard of Avon?! What is your most important skincare item and what products are you most interested to try?
Thank you for taking the time to hang out on my blog today, Addy