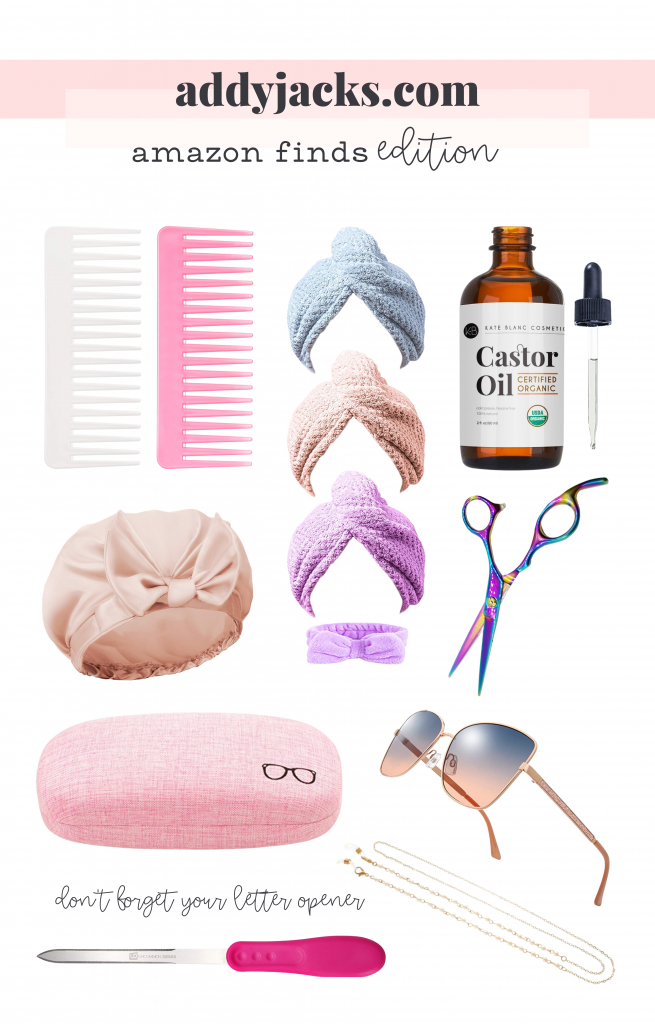 I did it! Late one night I filled up my amazon cart with selfcare routine and lifestyle items and purchased my first haul. Pleased as pie to round up all the amazon hair and accessory finds because EVERYTHING is fabulous!
Amazon finds
Wide Tooth Comb | Hair Cutting Shears | Castor Oil | Extra Large Shower Cap | 3+1 Pack Hair Towel Wrap | Eyeglasses Case​ | Eyeglass Chain | Sunglasses (similar) | Letter Opener
*AddyJacks is a participant in the Amazon Services LLC Associates Program, an affiliate advertising program designed to provide a means for sites to earn advertising fees by advertising and linking to Amazon.com*
Wide tooth combs are where hair taming goals are at. Having curly hair this comb will not cause frizz, pulling or static.
I trim my split ends and recently learned that using kitchen or craft scissors is a no no. Oops! Hair shears are made with a sharper blade created for hair cutting and not all scissors are created the same. If you don't know, now you know.
Castor Oil is thick, and I like that because when applied it does not run off onto areas such as eyeballs, clothes, the floor etc.
The satin shower cap fits great! The extra-large size (is not too large) holds my top knot and hair in without getting wet.
Turban towels, how did I live without these goodies for years?! The uber soft material is flexible, easily twists and buttons up my wet hair for hours. I got busy crafting and forgot about my wet hair, no dripping, no tangling and no slipping. This is such a good find and includes a free plushy headband.
If you want to keep track of scratch free sunglasses this case is cute enough to remember must have sun protectors. The bonus drawstring case is a good option for a small purse that can't hold larger items.
The glasses chain is so good and has been handy since Christmas.
Y'all, please do not forget your letter opener for mail and packages!
Which of these Amazon finds are your favorite?!