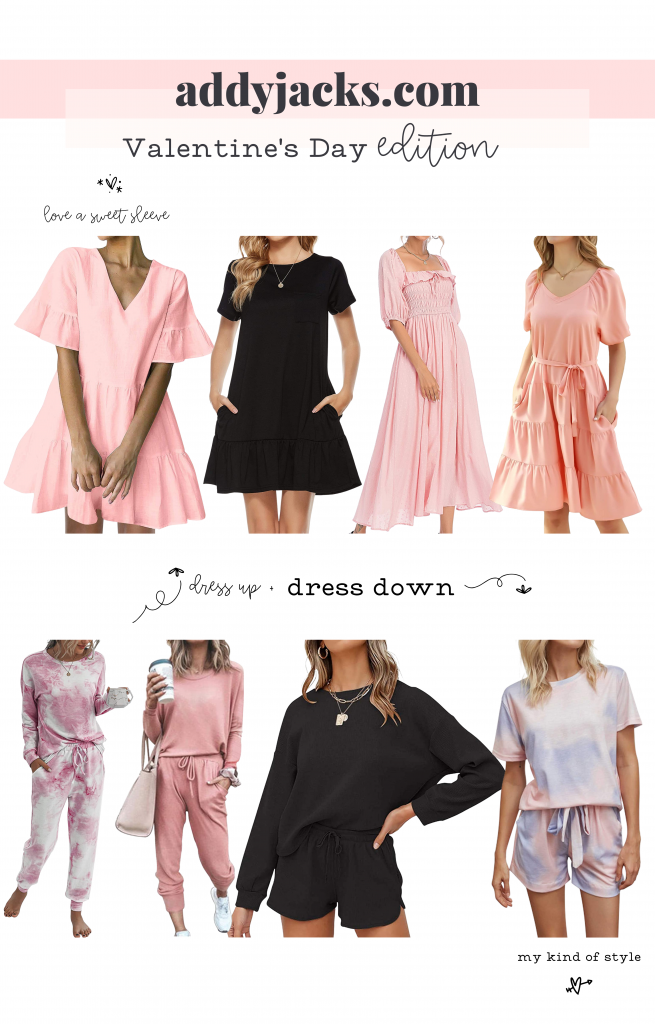 This Valentine's Day dress up or down in a comfortable outfit that will fit any mood. Whether you are planning on staying in for the evening to enjoy dinner, drinks, snacks, dessert or your fur baby; I have some ideas for you! This year I will escape to the mountains and enjoy a night in with homemade fettuccini, popcorn and movies. Please believe I will be in an all lounge wear set perfect to cozy up for the evening. Loving tie dye sets and enjoying them as much as possible for the holidays.
Amazon Finds
Shift Dress with Pockets | Casual Short Sleeve Black Tshirt Dress | Tiered Ruffle Swing Shift Belted Dresses with Pockets | Half Sleeve Cotton Ruffled A Line Flowy Dress | Tie Dye Two Piece Pajamas Set | 2 Piece Long Sleeve Outfit | Women's Long Sleeve Pajama Set Top and Shorts | Tie Dye Pajamas Set
*AddyJacks is a participant in the Amazon Services LLC Associates Program, an affiliate advertising program designed to provide a means for sites to earn advertising fees by advertising and linking to Amazon.com*
Which of these Amazon finds are your favorite?! Are you more of a dress up or dress down kinda girl?!