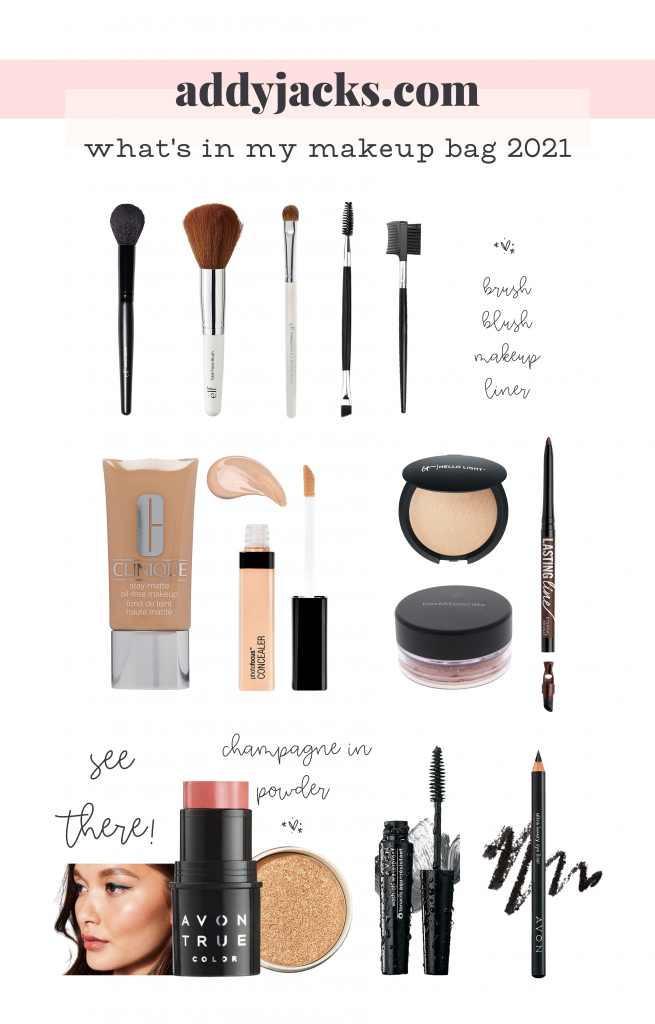 Today I am sharing my minimalist makeup essentials for everyday wear. Although I do not use lots of products I do LOVE what I have. For example, if I am not wearing JUST a moisturizer I am in highlighter and it is a must-have. A few items are ages old, and a few are just an age… I may have had my previous foundation for 6 years before changing it out because it ran out, it is very long lasting. Eye pencils and liners are ageless in my bag, they are more like a fine wine.
MAKEUP MUST-HAVES
This is a short list… and an essential one. Clinique stay-matte foundation has been a great makeup to me for years now. It is helpful for oily, blemish easy skin, does not cause breakouts, oil build up and it is cruelty free! Wet n Wild concealer does what is it made for ☝🏻. I apply it under my eyes, to my eyelids and its smooth texture does not clump. I do carry Q-tips with me throughout long or rainy days to smooth out under eye creases. Blush is a must! I love blush, it is my favorite in the whole world and this Bare Minerals hue is perfect for my complexion. IT Cosmetics highlighter is on my face if am wearing makeup anything, just love love love this soft, light and give me glimmer powder. Topping of the look with Avon mascara, this waterproof wash-off goody will 'stay all day'.
Wet n Wild concealer | Clinique foundation | Bare Minerals blush | IT Cosmetics highlighter | Bare Minerals eyeliner | e.l.f blush brush | e.l.f. brush set | duo eyebrow brush | Avon illuminator | Avon eye liner| Avon mascara
*AddyJacks is a participant in the Amazon Services LLC Associates Program, an affiliate advertising program designed to provide a means for sites to earn advertising fees by advertising and linking to Amazon.com*
What is your favorite makeup product and how often do your toss and replace your makeup items?!
Find me chatting about these makeup items here MAKEUP BAG 💄