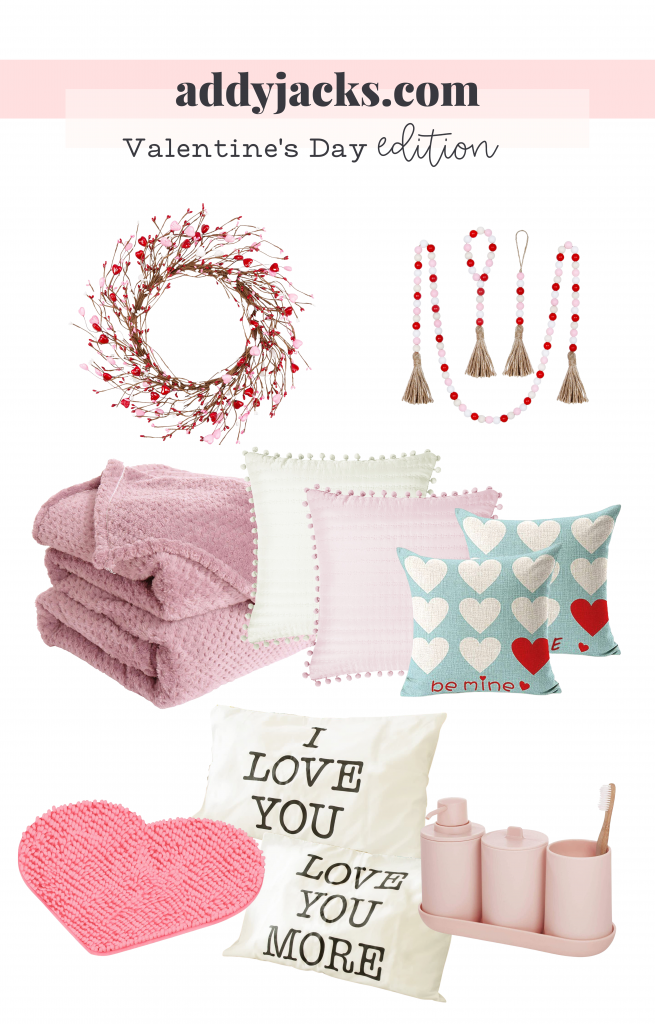 Add a little love to your home with these Valentine's Day home décor ideas this holiday season.
I like to add a few touches to my home every holiday whether big or small. I do not go "all out" with Valentine's Day home décor but I do sprinkle a room or two. Adding a bit of pink, red or neutrals to dress up your home with a few seasonal touches will do! This year I added DIY cabinet wreaths to my kitchen for just a little whimsy. I cannot escape my enjoyment of big pillows and throws. I have as many as possible on my couch at all times.
Ceramic Vase | Artificial Hydrangea Flowers | Wood Bead Garland with Tassel | Waffle Velvet Plush Throw | Valentine's Day Throw Pillow Cases | Pillow Covers with Pom Poms | Artificial Valentine's Day Wreath | Cotton Polyester Standard Size Pillowcase Pair | Heart Shaped Rug | 4-Piece Bathroom Accessory Set
*AddyJacks is a participant in the Amazon Services LLC Associates Program, an affiliate advertising program designed to provide a means for sites to earn advertising fees by advertising and linking to Amazon.com*
Do you go decorating crazy for every holiday or keep some low key? Are you the DIY or store bought type?